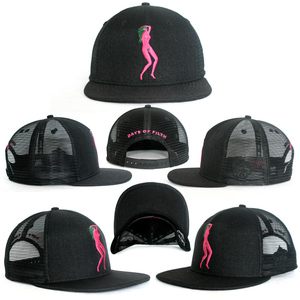 DAYS OF FILTH
"Pack your bags, bring your boardies and surfboards, carry a book, play rock n' roll music and go. They say experience is the
best education, so why not get down and dirty on the road? Forget the fresh laundry, wash your clothes by the beach. Camp whenever and wherever you feel like it. Enjoy the cold beers and grilled fish in the wild. Do whatever you want, you are free."




A new surf film by Mark Mabanag, Days Of Filth is a beautiful distraction from digital gadgets and all those political campaigns--a refreshing look into the simpler, filthier pleasures of life set in the breath-taking island paradise of Siargao. The first time we saw the trailer, we knew we had to show our support the best way we know how.



Inspired by our trips to Siargao and our close ties with the founders of Harana Surf, we put our heads together to make a snapback perfect for the surfer lifestyle. Made from hemp fabric with a mesh-back, it keeps you shaded under the sun while maintaining that fresh, breezy feel--plus it dries easy after catching some waves.




We've got a surprise on the inside, too: check out the stash pocket where you can place small, personal items while out on the beach--or you can leave the WIP condom in there for the novelty of it or just in case of emergencies. The condom is red to raise AIDS awareness: a playful reminder to stay filthy but to stay safe at the same time.




Now that the head-start run has come to a close and the DOF crew is busy doing the roadshow, we're making these limited-edition caps available exclusively at our webstore, WIP HQ, Gold Digger Records, Urban Athletics and selected Complex Lifestyle Store branches this weekend for PHP1550 each. Stay filthy!


---