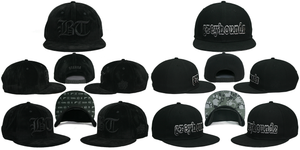 'BT' X + GREYHOUNDZ 19
These designs are the third of their respective series--both with important milestones to commemorate in the form of a cap. The
'BT' X snapback
celebrates ten years of the
Barangay Tibay
organization and movement . The tonal look is highlighted by the texture of Suede fabric and little details that real heads are sure to appreciate.
Keeping it clean and simple, the
Greyhoundz 19 snapback
 is for the true
Greyhoundz
fans, marking nineteen years of the band's continued legacy and success in the music scene locally and overseas. The underbrim is patterned with their iconic paw prints, signifying the lasting marks they have left in the industry and their supporters' lives.
Both designs come with bonus stash pockets inside and will be available at the 2016 Brgy Tibay Year-Ender party this Saturday, Dec. 17. Only limited pieces of these designs are available now at our webstore and tomorrow at
WIP HQ
for P1,550 each. Matira matibay! Sunog lang ng sunog!
---