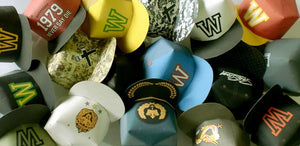 PAPER TOY WIP CAPS BY NOLLZZ (PIOD PAPER CREW)
Noli Umahag AKA
Nollzz
, is a proudly Ilonggo illustrator, designer and paper toy artist.
In 2013, he founded
PIOD paper crew
. 'Píod' is an Ilonggo term that means "to fold." We've always been fascinated by his high standards and attention to detail, taking his time to replicate our designs into intricate works of art that fit in the palm of your hand.
The meticulous process of creating paper toys is an art in itself, requiring both patience and passion to perfect. Nollzz carefully develops his work through artistically modifying characters, illustrations and objects from local and international influences to transform them into playful three-dimensional paper crafts.
His 'WIPCAPS IS ART' pop-up exhibitions are always something to look forward to. His aesthetic displays appeal to the kid in all of us, connecting WIPheads and strangers alike from all walks of life and ages in Iloilo city.
One of our personal favourite pieces of his were put up on Independence day, where he created an amazing paper toy mosaic display representing Filipino pride in his hometown of Iloilo city.
Nollzz hopes to remain active in the local art scene while continuously collaborating with other artists/movements on projects that help showcase the colorful spectrum of art forms in the global community.
We're greatly inspired by his dedication for the craft: a trait that allows him to constantly find creative ways to embody his love for art and culture. We look forward to working alongside him for more collaborations to come.
We want to thank Nollzz of the
WIPheads Team Iloilo
family for entrusting us to observe and document his process behind the scenes to show to the rest of the world.
---