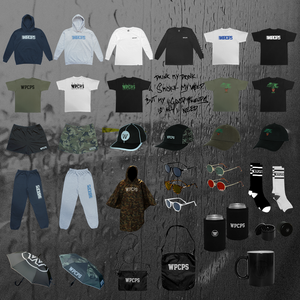 Rainy Days 2020 Collection
We've just dropped our Rainy Days Collection! It combines some indoor comforts with outdoor needs. 
The collection includes some cozy sweats and hoodies to keep you comfy while lounging. 
The accessories in the collection include some nice indoor quarantine toys, as well as some rainy day essentials to help keep you dry and comfortable on those quick beer runs. 
Printed in Japan, the outdoor accessories and clothing feature reflective paint to  make sure you stay visible if you accidentally break curfew. 
Using your mind to escape the rainy day lockdown confines of home. Imagining the social connections that we're all longing for and reflecting the lifestyles that we're all experiencing during this new 2020 normal. With dreams of brighter days ahead.  
If you like this piece share it with your friends - FACEBOOK
---