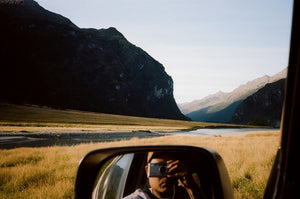 WIP // @llcooljm
Working on the set of Star Wars, being star struck with Tom Cruise, and now having his first art show in Manila after two Netflix original films in the past year, we caught up with the good mate, cinematographer and photographer, Lee Jake Mariano, and touched a little on what the art show 'MEANWHILE' means to him and his experiences on Hollywood film sets.
A Buckshot by WIP :: @llcoolljm


Congratulations on the show, Lee! Can't wait to see what you came up with, but before we get more into that, can you tell us what it was like working on a crazy set like Star Wars?

Lee : Working on Star Wars was insane! A dream come true. Any kid growing up in the 70's & 80's was in love with Star Wars! Getting to meet George Lucas, hanging out with Natalie Portman & Hayden Christensen for 3 month, what a cool thing to do. I had the toys, posters, etc. as a kid & to see it in real life was awesome.



What other Hollywood flicks did you enjoy working on?
The other films I loved working on was Charlottes Web, The Quiet American, The Pacific & The Kite Runner. So much fun on these jobs! Amazing friends, crew and the travel. And to work with some legendary Cinematographers was a dream.

Are you allowed to share the worst set you've been on?
To be honest all my experiences on set have been amazing! I've never been on a bad set! Hopefully that continues. We aren't curing cancer! We should be enjoying the experience for what it is.



Did you hear about the when the crew of the film Titanic ate pcp-spiked clam chowder? Any crazy or random stories on set you wanna share?
I can share, but not in public! Oh the stories I have...


Can you tell us about the time you met Tom Cruise?
Maverick! Tom Cruise is the man. I don't get star stuck that often, but Maverick, dude! Who doesn't love Top Gun.

I was working on a horror film in Melbourne with Katie Holmes and Guy Pearce. Directed by Guillermo del Toro. Tom was in town coming to visit Katie and Suri. It was such a tense day as we all were waiting for him to come to set. When he arrived you could feel his presence. I was fumbling the equipment, couldn't speak, was very funny at the time. As we were packing up I was heading to the back lane where the camera truck was. As I arrived I see Tom with Suri hanging out at the back of the truck. I didn't know where to look or what to say! I looked at his feet & noticed a box fresh pair of Nike Air Force 1's. All I said was, "Nice Air Force 1's, Tom..." . Then ran away like a giggling school girl!

How did you get into photography?
I got in to photography at a young age. My Mom took up lessons & turned our bathroom into  a make shift dark room. She didn't really continue with it so I decided to take it up. I was always a visual kid, loved art class.




How are you going about living and practicing cinematography and photography in Manila?
Its been a fun journey so far! Until the pandemic hit! We came here to experience somewhere new, get out of our comfort zone. I was very fortune to meet such amazing people willing to take a chance on the new guy in town. Two Netflix Original films isn't a bad way to start. In terms of photography I was very fortunate to be included in an amazing group show for the Art Fair 2021 at Secret Fresh Gallery! My first exhibit in the PH. Very excited. Please go check it out!


Can you tell us the back story of the images for your show?
The muse for the images in the show is a girl called Caitlin. She was friends with my niece. Caitlin had such an amazing, vibrant, natural vibe about her as you can see from the images. Was fun to shoot her.


Whose works are you currently digging?
In terms of photography i'm digging Ryan McGinley, Tim Barber, Lina Scheynius and Henrik Purienne. In terms of DOP's, Rina Yang is killing it. Her work is amazing! And from humble beginnings too. Check out her work.
Could you share a story about your connection with Christopher Doyle?
Chris Doyle has been an amazing inspiration from a young age. I was such a big fan of Chungking Express & Fallen Angels!

I was super lucky to work on a film Chris shoot in Vietnam & Sydney called The Quiet American, with Michael Caine & Brendan Fraser. I was so young and green at that time I got he late call up to go to Vietnam as the film was already shooting. I was so excited I didn't even ask who was the cinematographer was. On the plane I open up the package with the script etc, and see Chris was the DOP. I was super excited! We maintained a friendship ever since. We once took out Zhang Ziyi & Zhang Yimou when they were in Sydney after shooting Hero. That was a fun night out!

What's next for LJM?
Who knows with this current climate... Hopefully some more films to come & another art show for August. I'm excited to be in a new place, to challenge myself & get out of my comfort zone.

As Chris Doyle recently said to me, 'Good time to reflect on all that matters and make all the matters what we live for...'

All images from Lee Jake Mariano
For more cool stuff visit http://www.leejakemariano.com/
Tell your friends about the art show "Meanwhile" happening at Secret Fresh  Ronac Art Center, Ortigas Ave, San Juan, Metro Manila 
Show runs until May 15, 2021
---