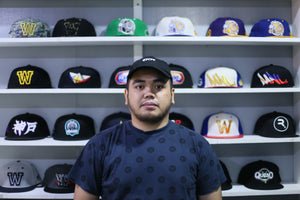 WIP PRESENTS: GEARHEAD ONLINE SHOP
We're proud to premiere this ongoing series that features some of our most trusted partners & stockists who have been supporting the brand throughout the years. Without them, we wouldn't be where we are today. These are unique, innovative individuals who have turned their hobbies into a way of life. Fueled by passion, creative vision and a humbling sense of community, they started their own business by investing in re-selling or producing their own WIP caps.
Gab at his partner store
Brandead
at Munoz Market, QC // Photo by 
Lynyrd Matias
WIPheads
president & founder 
Gab Mercado
, previously featured on our
first 'WIPheads' episode
, is not just a full-time UP Mechanical Engineering assistant professor--he is also the owner of local brand 
Gearhead Online Shop
: our first authorized local re-seller.
Through representing WIP, he's been able to work with the people he admires in different industries and lifestyles, giving him the versatility to do work and play at the same time. Although it takes a lot of effort on his part as a one-man team who conceptualizes, ships and manages his products, we're proud to have seen his growth since our founding days in the late 2000's.
Gab has worked with many different artists, local bands, independent brands and personalities such as
Nick Automatic
,
Evil Genius
,
PK Gonzales
,
Nollz Z Li
,
Third Empire
,
Ashley Gosiengfao
, Fliptop rappers
Sinio
and
Tipsy D
, along with his consistent collabs with
Queso
to name a few. We're truly impressed by Gab's ability to make connections and create concepts that allow us to grow along with him. He motivates us to never lose the playful enthusiasm and love we have for WIP and the people who believe in what we stand for as a brand.
Want to build a career or business with WIP? Become a
WIP dealer
and check out our guidelines on how to apply or start
making your own custom WIP caps
!
---