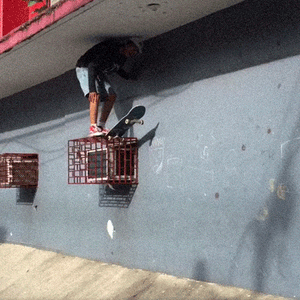 WIP // SILID TAMBAKAN
A couple of weeks ago their viral facebook video titled "Quaranskate
V.2" popped up on our feed. It was relatable, fun to watch (great soundtrack, too!), the tricks and spots were great, and you didn't know what you were gonna see next! 

Aside from being left with the feeling of wanting to go out and skate after, we got curious about 'em. We recently hit them up to find out what the deal is with Team Silid.
A Buckshot by WIP :: @TEAMSILID


What is up! I just rewatched QUARANSKATE V.2, and a bunch of the other SILID TAMBAKAN skate clips on social media. Lovin' the stuff!

How long did it take to put together the video QUARANSKATE V.2?
Lloyd : It took almost a year to finish the video despite it only being 3 minutes of skating. I think we started filming clips back in the 'ber months last year.

Some of the boys were busy with online schooling or hustlin' to earn money.

How old are these guys?
Around 17-20 years old.


Tell us about the crew involved.
Me, and my High School friend, Alex started Team Silid back in September 2018.
Our crew is composed of around 10 skaters, I think! 🤔 Esh, Chang, Jerry, Jorge, Killua, Sinag, Andrew, Mak, Tom, Von, Ryan, Jiro and a few others.

What do you think TEAM SILID's biggest influences are?
Our biggest influences are the OG's here in Sampaloc, and also some pro skaters abroad.

Can you tell us about Silid Tambakan Skate Shop, is this purely online or do you have a physical shop?
We focus more online. Right now we don't have a physical shop.

How much time do you spend on Social Media?
Since I have work, the others manage and answer the PMs and DMs. Especially Alex and Esh.


Not that I've seen anything, but do you come across haters online?
Yup, especially when we posted QUARANSKATE V.1 last year.
But they don't skate so they just can't relate.




I like that the guys skate anything! Encounters with bystanders and pedestrians is normal in skating. I am sure the kids get kicked out of spots a lot, too!


Can you tell us about what happened after the homie hopped over the rail, why'd that old lady on the street throw a rock at him?
I think she was just crazy! We didn't do anything, we were shocked that she did that! Amazingly, Mak caught the big rock she threw after he landed. 😆

Good one!


What's next for TEAM SILID?
Right now the crew is filming & collecting clips because we're planning to put out a new video part.

What about Silid Tambakan Shop?
Silid Tambakan will still provide service and skate goods. We're committed in helping our skate community, especially here in Sampaloc.

In the next 5 years, where do you see skateboarding in the Philippines?
I believe someday we'll have many Pros, Ams & representatives (in Olympic or international skate competitions) that will raise our flag 🇵🇭 .

If only the Government supported us. I see that skateboarding here is very popular because of the promising talented youngsters.


WATCH "QUARANSKATE V.2" HERE
FOLLOW SILID TAMBAKAN ON FACEBOOK
FOLLOW @TEAMSILID ON INSTAGRAM
SUPPORT YOUR LOCAL SKATE SHOP
---