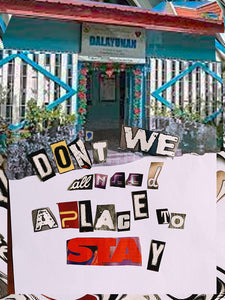 WIP Visits Iloilo City's Dalayunan
words by Doc Panda
photos by Jomark

The global pandemic has affected us all. It has impacted families and the lives of Filipino men, women, and children. It has left family members stranded and caused many to lose jobs and ways of livelihood. 2020 was a tough year for everyone, and 2021 is showing no signs of letting up. 



Ronnie Jaena, an Ilonggo rapper who knows first-hand what it's like to be down on your luck, believes tough times should never harden our hearts nor dull our sense of compassion. When he contacted WIP Caps with the idea of visiting Dalayunan: A Home for Boys in Bo. Obrero, Iloilo City, we were more than happy to help.



Dalayunan is a facility for misguided adolescent boys who have made poor life decisions. The word dalayunan is Hiligaynon for "a place to stay," but the center is so much more. It is also a school and a shelter that provides comfort and protection to its residents.
Ronnie and a passionate group of local musical artists such as Martin, Mayo, Castillo, Pak Tisoy, Sayken Snipes, Onse, Kokok Tor, and a host of others, paid a visit to Dalayunan on May 2, 2021, hoping to inspire young minds and guide them towards positive, non-violent, and law-abiding lives.

The project was met with much enthusiasm. Through songwriting lectures, workshops, and performances, a connection was forged between the artists and residents of Dalayunan.
Tough times should never harden our hearts nor dull our sense of compassion. After all, when all is said and done, don't we all need a place to stay?
A Place To Stay by Doc Panda
WIPCAPS ILOILO CONNECTION
---