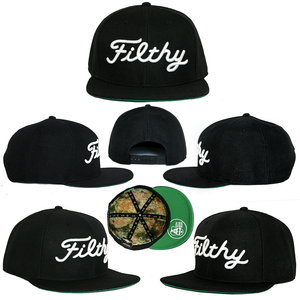 WIP X CUSTOMGROW420: 'FILTHY' HEMP SNAPBACK
Just in time for this weekend's
Seattle Hempfest
, we're stoked to finally drop our highly anticipated collaboration with the biggest Weedtuber on the planet: 
CustomGrow420
! Jolie Olie is widely celebrated for his one-take vlogs and
iron lungs
. Along with his charismatic personality, infectious intros and catchy one-liners,
his videos are among the best rec
reational Cannabis content you'll ever find on the internet.
Well-known for his
hot-n-hurty dab hits
,
lung-buster bong rips
,
fat blunts
,
insane dab challenges
along with fun
unboxing vids
, 
product recommendations
and 
strain reviews,
 his videos are enjoyed by over a million of his subscribers and fans worldwide.
If you've checked out several of his videos, he's basically living proof that no crazy amount of weed consumption can ever kill you. More than all that, he's a full-time family man and homie who has built a career for himself and amassed a huge following through his pure love for Cannabis.
Jolie Olie is a shining example that society's residual stigmas against stoners don't matter as long as you succeed doing what you love most in life. Amidst all the fame surrounding his social media channels, Jolie is a humble, down-to-earth dude who simply enjoys
taking recreational Cannabis to a whole new level-
-and everyone can't help but love him for it. If anything, his collaborative videos with good friends like 
Harry Dabs
 shows that they do it all for fun and friendship while keepin' it filthy.
"FILTHY!" is one of Jolie's many classic expressions which definitely served as our main inspiration for the collab design. Made from organic Hemp fabric, the 'Filthy' snapback is cool and breezy on the head, accented nicely with a kelly green underbill and customgrow420's logo. As a bonus feature, the inside of the cap is lined with custom printed high-grade fabric along with a secret stash pocket. Only 420 pieces were made for this special run, and every cap comes with a limited-edition WIP x CG420 sticker.
Switchtrik rockin' his 'Filthy' snapback with our black 'WPCPS' 420 tee
We're honored to have collaborated with a cultural Cannabis icon like
CustomGrow420
, allowing us to prove that the recreational movement is also going strong on a global scale. Keep the Weed in Progress wherever you are in the world and get yours now for PHP1550 ($30) each at
WIP HQ
and our
webstore
. We ship worldwide. CHEERS!
---