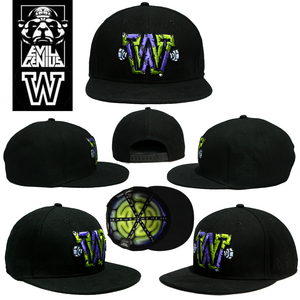 WIP X EVIL GENIUS: THE 'W' FRANKIE
IT'S ALIVE! We're proud to finally unveil our first collaborative mad creation with 
Evil Genius Clothing Co
. Inspired by the classic horror tale of Frankenstein, the EG team put a gory twist to our iconic 'W', bringing a new kind of creature to life.
Apart from the detailed front embroidery, the inside dome of the cap is lined with brainy goodness accented in neon green and deep purple: the mind of an evil genius who isn't afraid to experiment and get creative.
We also collaborated to create the EG X WIP 'WPCPS' tee rendered in classic Frankenstein fashion. Each shirt will be available for P700 each exclusively at
WIP HQ
and
SNDKTO
.
We're always grateful for the opportunity to collaborate with artistic local independent brands like Evil Genius and it definitely won't be the last time! Get your limited-edition
'W' Frankie snapbacks
now for P1550 each at
WIP HQ
, wipcaps.com and
SNDKTO!
Every purchase comes with a free 'W' Frankie sticker. Only 500 pieces were made for this run.
---