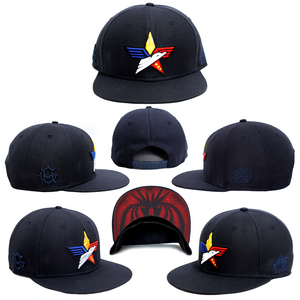 WIP x GEARHEAD: 'Lord of the Sky'
We're proud to unveil this collaboration with GearHead Online and Iloilo-based artist & designer Nollzz (Snaps & Threads), helping raise awareness for our endangered Philippine endemic species. This nationalistic design symbolizes 'Great Strength and Vision' along with soaring love for our Inang Bayan.




The designer has methodically and meticulously made the Lord of the Sky cap and the Monkey-Eating Eagle into a symmetrical 5-point star, patterned after the colorway of the Philippine National flag.



The design elements give emphasis on the eagle's head and eyes, conveying the message of the courageous Filipino spirit. It also emphasizes the Eagle's wings which stands for determination as the eagle's spirit inspires us to "look forward" and fly high towards the sun. It also symbolizes the resilient Filipino spirit, capable of enduring wherever the wind of change may lead us.

In efforts to raise awareness for our endemic and endangered species, the designer highlights three different species that are sadly facing extinction with elements that represent the Three Stars of Philippine National flag.


More than just a cap that makes us proud of our Filipino heritage and colorful local culture, this collaborative design with Nollzz (Snaps & Threads) and Gearhead reminds us that to care for our country means not just taking care of ourselves, but caring for all living beings who co-inhabit our land, waters and skies.



Get your 'Lord of the Sky' snapbacks now for PHP1650 each at Gearhead Online Shop, our webstore and at WIP HQ.


---