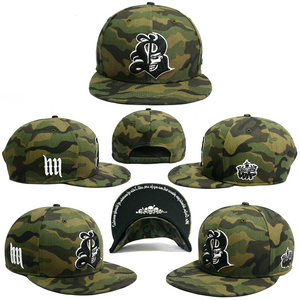 WIP X HEADS UP: 'Bonafide' Camouflage
Heads Up
is back with the much-awaited 'Bonafide' Camouflage snapback!
Paying homage to the legendary rap group Bone Thugs n Harmony, t
he first 'Bonafide' Hemp cap was released a few years ago during the
Bone Thugs N Harmony Manila benefit concert in 2014
. Through Edgar and Karell's involvement in the event, the artists rocked their 'Bonafide' caps on stage, bringing Mr. Ouija to life during their performance.
The simple yet iconic 'Bonafide' logo was conceptualized by merging the Old English Font 'B' with a Skull, which are both commonly associated to the group that inspired this cap – Bone Thugs n Harmony. The Camouflage fabric for the dome and brim was also inspired from their love for camouflage attire during their early years.

The Bonafide Camouflage Snapback is now available exclusively at Heads Up for PHP1650 each. You can also pair it up with our Skull Camou Pocket Tee for only P550. 
All orders will be shipped by September 29
. Limited to 150 pcs only. Hit up 0919 902-2207 or send a message to HeadsUp for other inquiries.
---