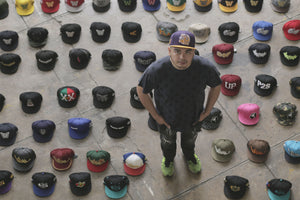 WIPHEADS EP. 01 - WIPheads founder Gab Mercado
The
WIPheads
group was started by its founder and president
Gab Mercado
. He's been an avid follower since our humble beginnings when he was still an undergrad and is one of the most trusted WIPheads we know. Throughout the years, he's collected every single official release and has even gotten his hands on some of the rarest designs in the market. His massive collection has earned him a legendary status among WIPheads and collectors alike who understand the perseverance and effort it takes when it comes to collecting the things you love most. It speaks volumes about his unparalleled dedication and passion for WIP caps.
We're honored to highlight Gab for the first feature of our ongoing WIPheads series. Humble, intelligent and creative, he currently works as an assistant professor for Mechanical Engineering at UP Diliman, balancing his enthusiasm for MMA and sports while collecting, selling and even designing his very own WIP caps under his brand
Gearhead Online Shop
. We visited the UP engineering building during his downtime to learn more about how and why he started--of course, it was the perfect chance to document and share part of his collection with the rest of the world.
In the eyes of a true WIPhead, each cap is a work of art with its own meaning and story worth sharing. Post photos of your collection on our
WIP collectors thread
at the
WIP forum
and tell us why and how you got started for a chance to be featured next. Keep it legit, heads!
---
1 comment